Description
One of the most talked-about and sought after performance parts for the 10th Generation Honda Civic is ready. The 27WON Performance Turbo Inlet Pipe is here and aims to take your Earth Dreams powered Civic to a completely new level of bolt-on performance.
Form and Function come together beautifully in our Turbo Inlet Pipe. A precision cast aluminum one-piece design adds a significant

 

"aftermarket"

 

look to your engine bay and provides a big performance increase with its huge 42% larger than OE design.
Combine the Turbo Inlet Pipe with the Hybrid Cold Air Intake system

 

and

 

W1 turbocharger

 

upgrade

 

for the biggest gains and a complete system that truly does REDEFINE the Aftermarket.
All pipes come finished in a durable black powdercoat

 

to not only help resist heat but also provide a long-lasting and sleek look.

This is how you REDEFINE the Aftermarket; Huge cross-sectional area increase, retention of all OEM controls, one-piece construction, and a visual boost that will be breaking necks at every show. *prototype pipe shown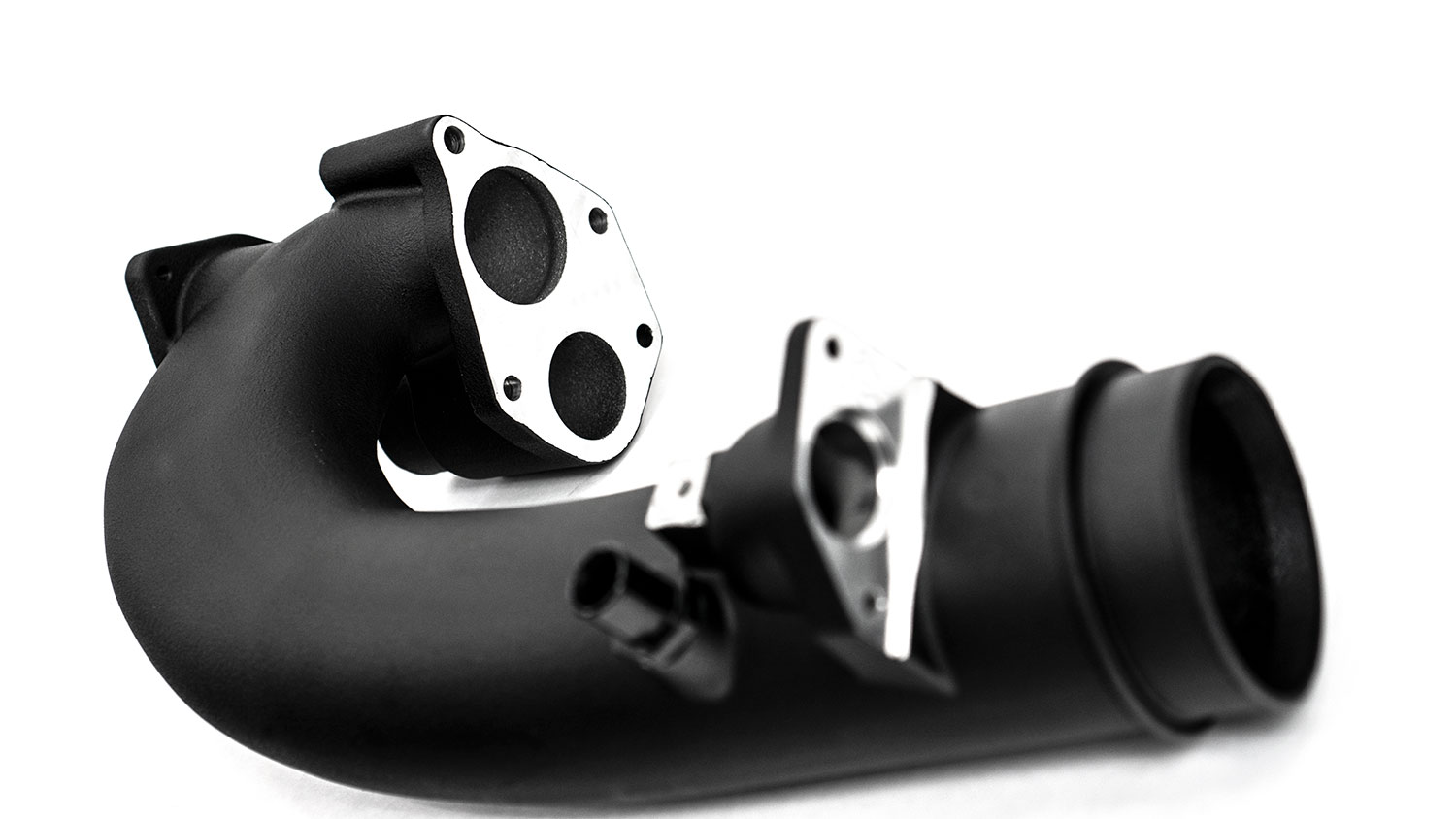 Each and every turbo inlet pipe is hand crafted by our production team. To reflect this, we serialize every unit that leaves our shop so that you know you are getting a one of a kind piece that is as unique as the driver that owns it.




On an OEM Turbocharger setup the gains from the install of the 27WON Turbo Inlet Pipe (TIP) are small. This is because the factory equipped turbo is so tiny and undersized, it's the bigger flow restriction. Testing across multiple SI trim Civic's showed us an average net gain of 2.2hp and 3.4wtq. These numbers are slightly higher on Base trim models that come from the factory with a much smaller plastic turbo inlet pipe.

It was not until we equipped our CivicX with a W1 turbo drop-in upgrade that the TIP really started to shine in the performance category. The addition of our TIP (aka cross-over pipe) to the larger aftermarket turbo kit netted us over 17 g/s of flow which is huge for such a simple bolt-on part. With the addition of the TIP, we saw horsepower gains of around 9hp.
***Note*** While a tune is not required we recommend one for optimal performance.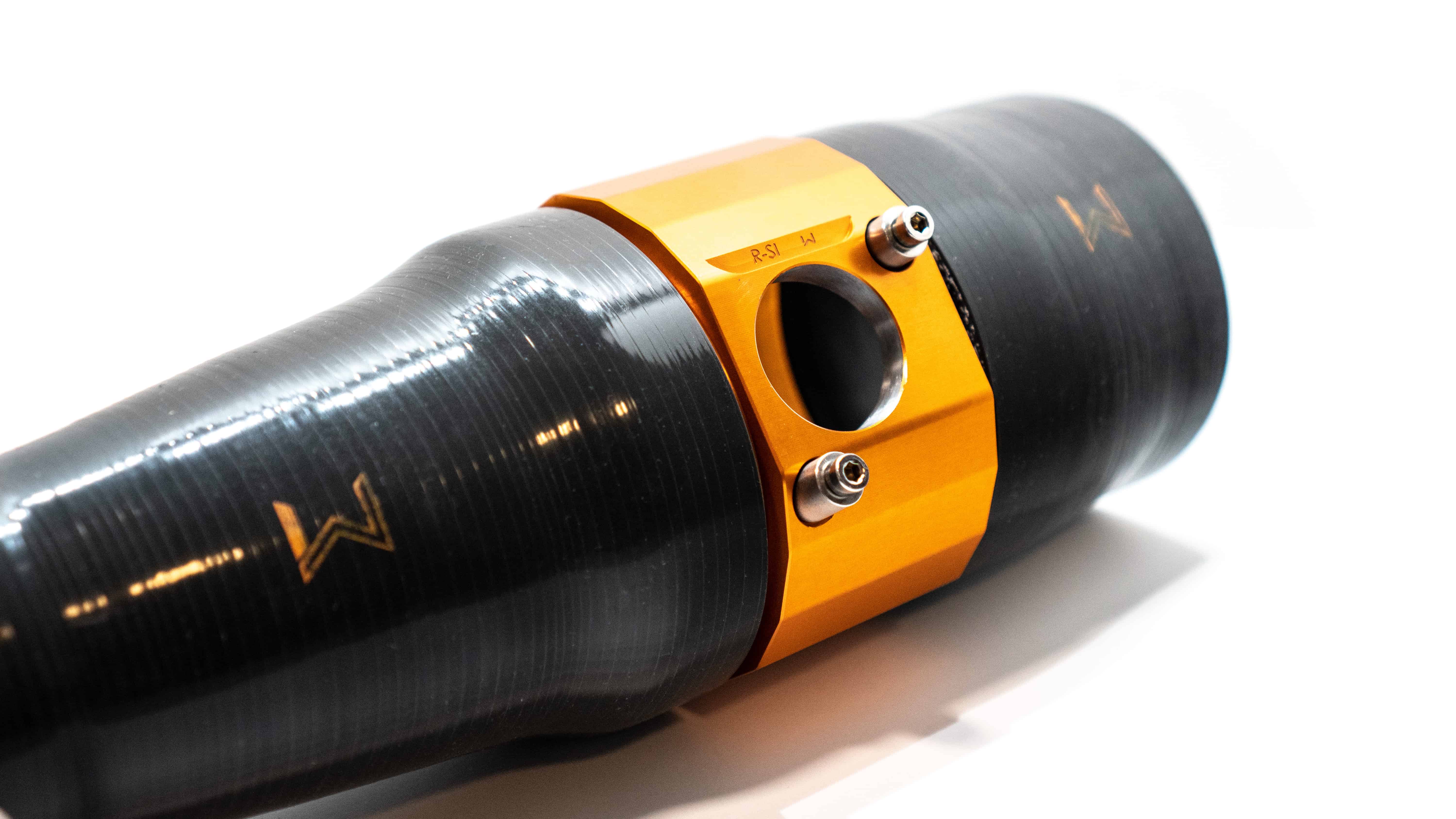 The 27WON Turbo Inlet Pipe works especially well with our 80mm RACE MAF for both SI and non-SI options. You can get this 3.14" sized MAF housing as an upgrade to your existing 27WON intake or buy it brand new with full intake systems.

Order Your Hybrid Cold Air Intake Here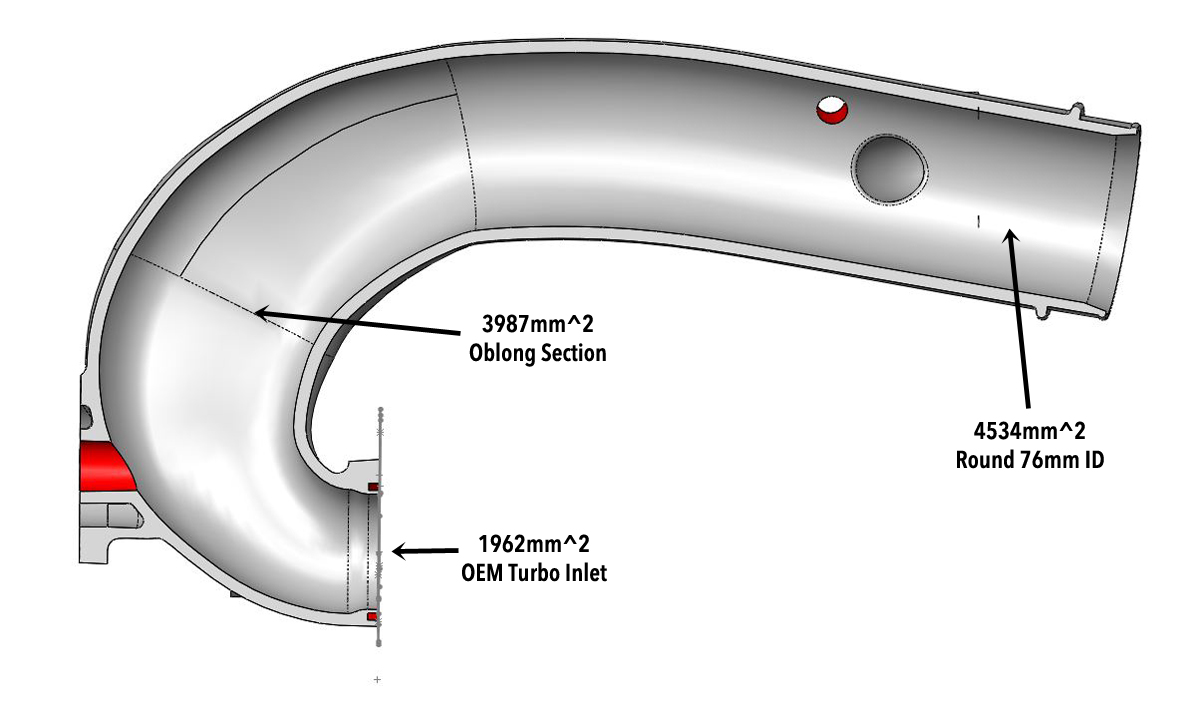 The 27WON Turbo Inlet Pipe increases the inside diameter to 76mm, a 42% increase in cross-sectional area. This drastically improves the efficiency of the intake system resulting in improved airflow through the turbocharger and releasing more power potential for your 1.5L engine.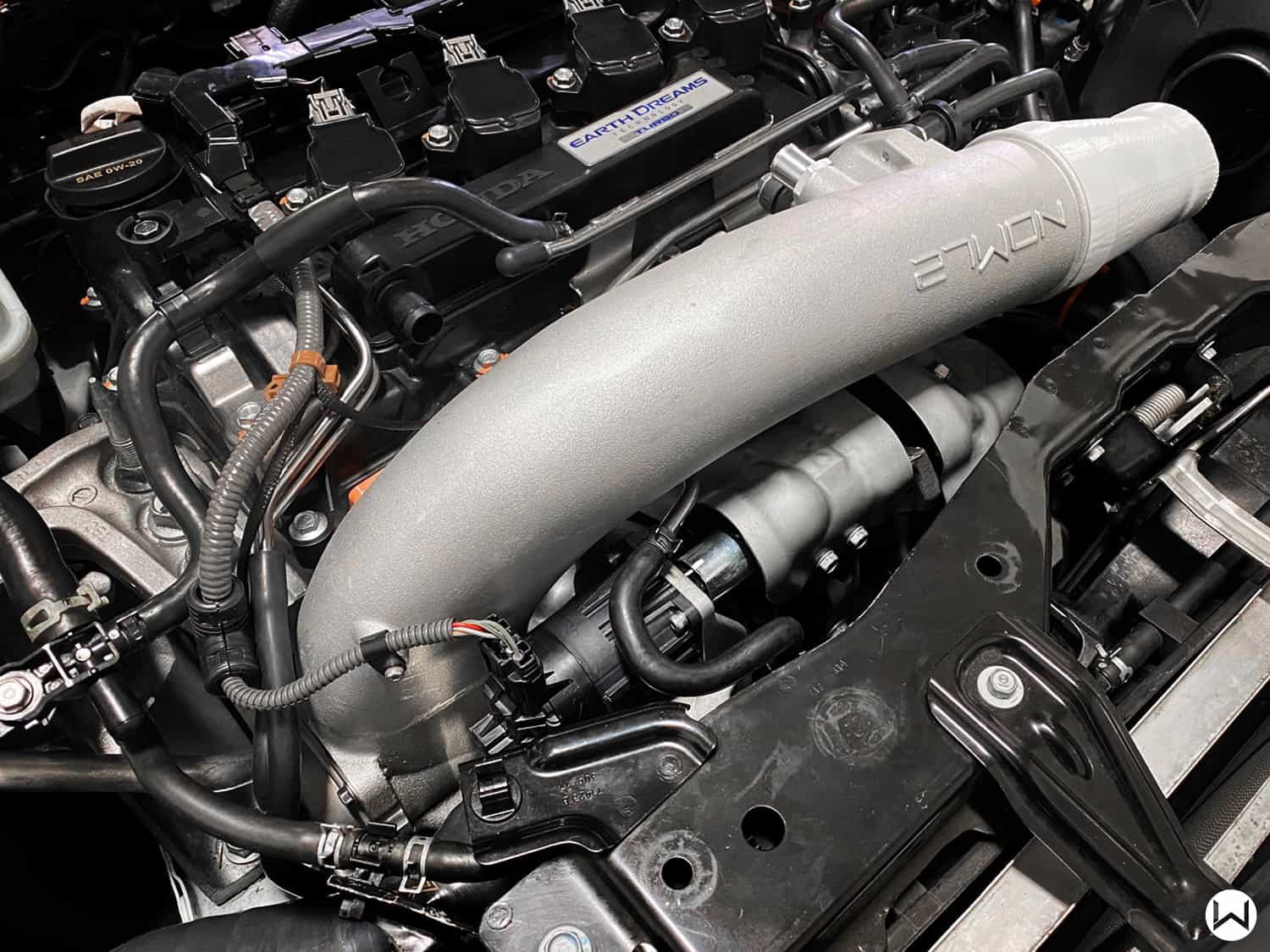 Due to the extremely complex nature of this part, our requirement to retain the OEM BPV, and our goal for a single-piece design the team here utilized cast aluminum construction for the turbo inlet pipe. This provides a lightweight and simple part for you while allowing for the design flexibility to hit our objectives. *prototype pipe shown

All pieces are manufactured from A356-T6 aluminum and post machined to a precision fit for both OEM and W1 style drop-in turbo upgrades.
***Note*** All design and testing was completed with an OEM bypass valve (BPV). We cannot guarantee the fitment of our TIP with any aftermarket BPV. Further, we do not recommend one for drive-ability and performance reasons.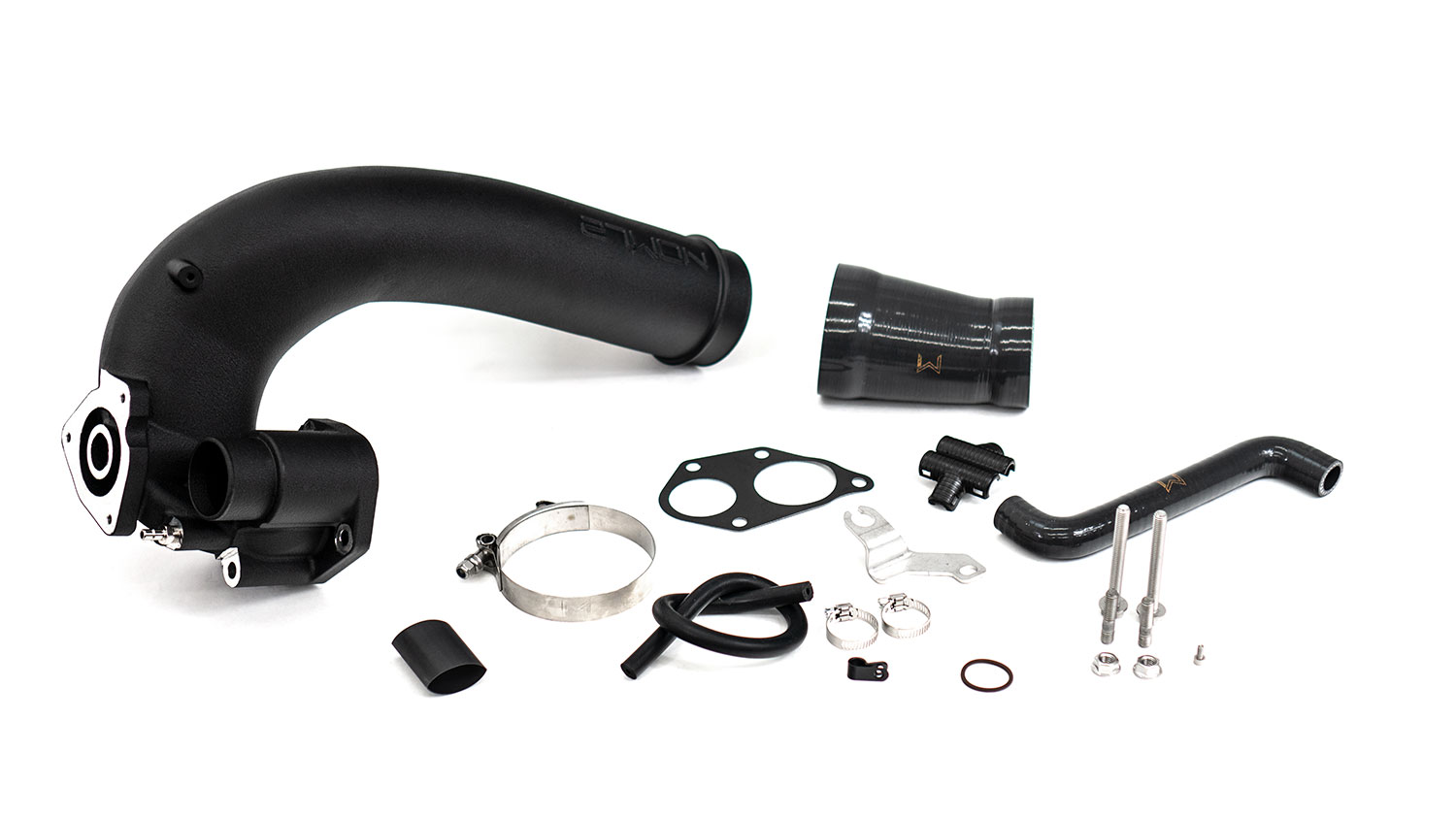 We pushed the limits with our design and this required that we make changes to both the sealing surface to the compressor and the valve cover breather hose. Good news though, we've designed and included all the necessary components for a complete and seamless install.

Mounting studs, gasket, silicone valve cover breather hose, mounting bracket, silicone, and a new wiring harness shrink wrap are all included with the turbo inlet pipe.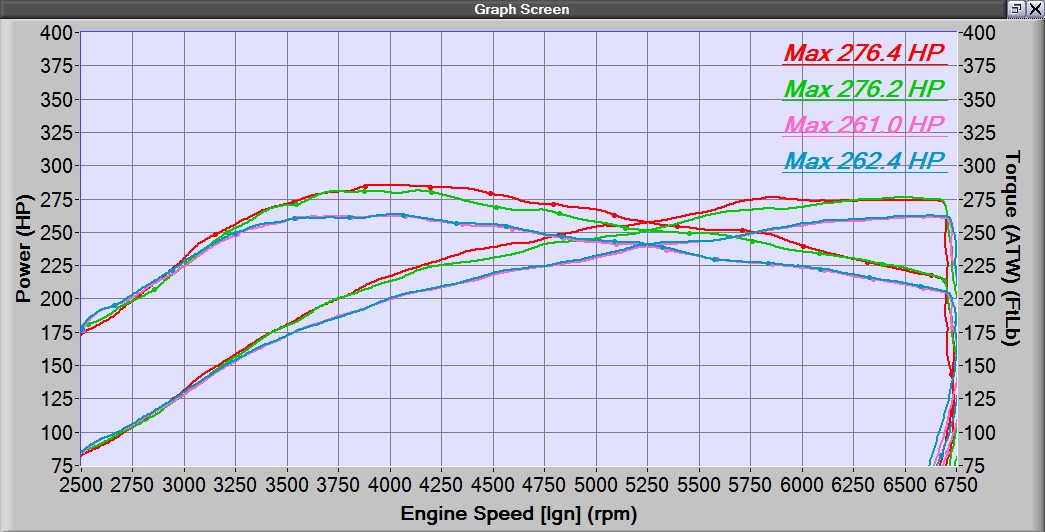 Our upgraded turbo inlet pipe pairs excellently with our W1 upgraded turbocharger kit. With optimized tuning we saw gains north of 13whp and 14wtq. This testing was performed on a 2018 Honda Civic SI with standard bolt on modifications on pump gas.

With increased flow and less restriction an upgraded T.I.P can help feed the turbo with fresh air and even give a louder induction noise for those looking to make a statement with this upgrade.

CHECK OUT OUR DESIGN BLOGS BELOW TO SEE HOW WE CREATED THE BEST COMPANION FOR YOUR INTAKE
PART 1:
The OEM tip is a pancake
PART 2:
From Idea to concept
PART 3:
3D prints and prototyping
PART 4:
The final countdown
Limited Lifetime Warranty
Designed and machined in Vancouver, WA, in the greater PNW
Individual Serial Numbers for every single pipe
Full color digital

 

installation instructions.

 

Install app downloads can be found here

 

Play Store

 

and

 

Itunes